Precis Writing
Precis Writing Examples for WBPSC Clerkship Main – PDF
Precis Writing Examples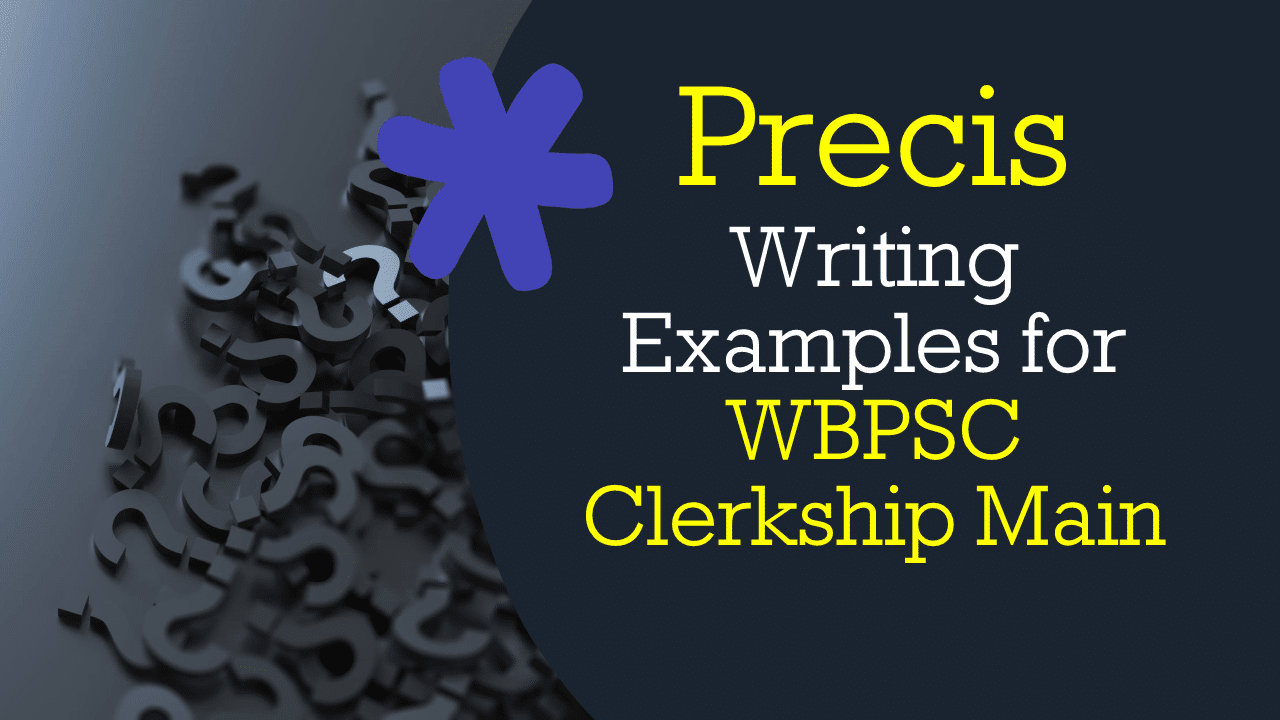 Precis Writing Examples for WBPSC Clerkship Main
WBPSC Clerkship Main পরীক্ষার একটি অত্যন্ত গুরুত্বপূর্ণ টপিক হলো Precis Writing। এর আগেও আমরা কতগুলি Precis কি করে লেখা হয় এবং তার কিছু স্যাম্পল নিয়ে পোস্ট করেছিলাম। আজকে তোমাদের জন্য দেওয়া রইলো আরো কিছু প্রাকটিস সেট (Precis Writing Examples ) ।
শুধুমাত্র WBPSC Clerkship Main পরীক্ষার জন্য নয়, বর্তমানে অধিকাংশ Main Exam গুলিতেই কিন্তু আজকাল Precis Writing একটি গুরুত্বপূর্ণ টপিক। তাই দেরি না করে প্রাকটিস করা শুরু করে দাও।
দেখে নাও : Precis Writing –  Rules, Dos & Don'ts
বিস্তারিত জানতে আমাদের ভিডিওটিও দেখে নিতে পারো
Precis Writing Examples 1 :
That Buddhism became so important in the world is largely due to a great king who ruled in India in the third century B. C. His name is Asoka. Like most famous kings in history Asoka was a conqueror.
His grandfather, Chandragupta had changed India from a number of little fighting States into a more or less one country, and Asoka pushed his grandfather's conquests right down to the southern end of India. Unlike the other great conquerors in history, however, he seemed to have understood the suffering that war meant. He was a devout Buddhist and wanted to make other people Buddhists too. But it could not, he thought, be right to spread what you believed by violent means; and so he gave up war, while victorious, and decided to devote himself to spreading Buddhism not by fighting but by preaching. He kept his empire at peace and ruled wisely ministering to the material and spiritual needs of the people. In particular, he did much to make India more prosperous by digging wells, planting trees, founding hospitals and educating his people. He even tried his best to educate women, which was an unheard thing in those days.
Sample Solution
Title: Asoka's contributions to the good of man.
Asoka was a unique ruler of India. As a conqueror he realised the evil effect of war. As a devout Buddhist he tried to spread Buddhism all the world over, not by violent means, but by preaching.
He contributed to the prosperity of India by digging wells, planting trees, founding hospitals and spreading education even among women. (57 words)
[/spoiler]
---
Also Check : Precis Writing – Examples – Series 3 ( PDF )
Precis Writing Examples 2:
A contemporary of Wordsworth, Sir Walter Scott was one of the greatest historical novelists of England. He was a man who was honest to the core of his nature; and his strenuous and determined efforts to pay his debts or rather the debts of the firm with which he had become involved have always appeared to us one of the grandest things in biography. When his publisher and printer broke down, ruin seemed to stare him in the face. There was no want of sympathy for him in his great misfortune, and his friends came forward, who offered to raise money enough to enable him to arrange with his creditor. "No", said he proudly, this right hand shall work it all off"'. "If we lose everything else", he wrote to a friend, "we will at least keep our honour unblemished." While his health was already becoming undermined by overwork, he went on "writing like a tiger", as he himself expressed it until no longer able to wield a pen; and though he paid the penalty of his supreme efforts with his life, he nevertheless saved his honour and his self-respect.
Sample Solution
Title: Sri Walter Scott's sense of honour.
Sir Walter Scott had strong sense of honour. Once his friends offered to help him with money, so that he could pay off his debts. But he refused their help and resolved to make money by writing books.
He overworked himself, which ultimately cost his life. He preferred death to the loss of honour.
[/spoiler]
---
Also Check : Precis Writing – Examples – Series 2 ( PDF )
Precis Writing Examples 3:
King Midas was fonder of gold than of anything else in the world. He valued his royal crown chiefly because it was composed of that precious metal. If he loved anything better or half so well, it was one
little maiden who played so merrily round her father's foot-stool. But the more Midas loved his daughter, the more did he desire and seek wealth. He thought, foolish man that he was, that the best thing he could possibly do for his dear child would be to bequeath her the immensest pile of yellow glistening coins that had ever been heaped together since the world was created. So he gave all his thoughts and all his time to his one purpose. If ever he happened to gaze for an instant at the gold-tinted clouds of sunset, he wished that they were gold and that they could be squeezed safely into his strong box.
Sample Solution
Title: King Midas's fondness for gold.
King Midas valued gold more than any earthly thing. But he loved his daughter very much and valued gold for the sake of her to whom he wanted to bequeath all the gold in the world. He even wished the gold-tinted clouds of sunset were real gold.
[/spoiler]
---
Also Check : Precis Writing – Examples – Series 1
Also Check : Bengali to English Translation – Series 4 ( PDF )
Download in PDF format :