English
Masculine and Feminine Gender of Animals – Male and Female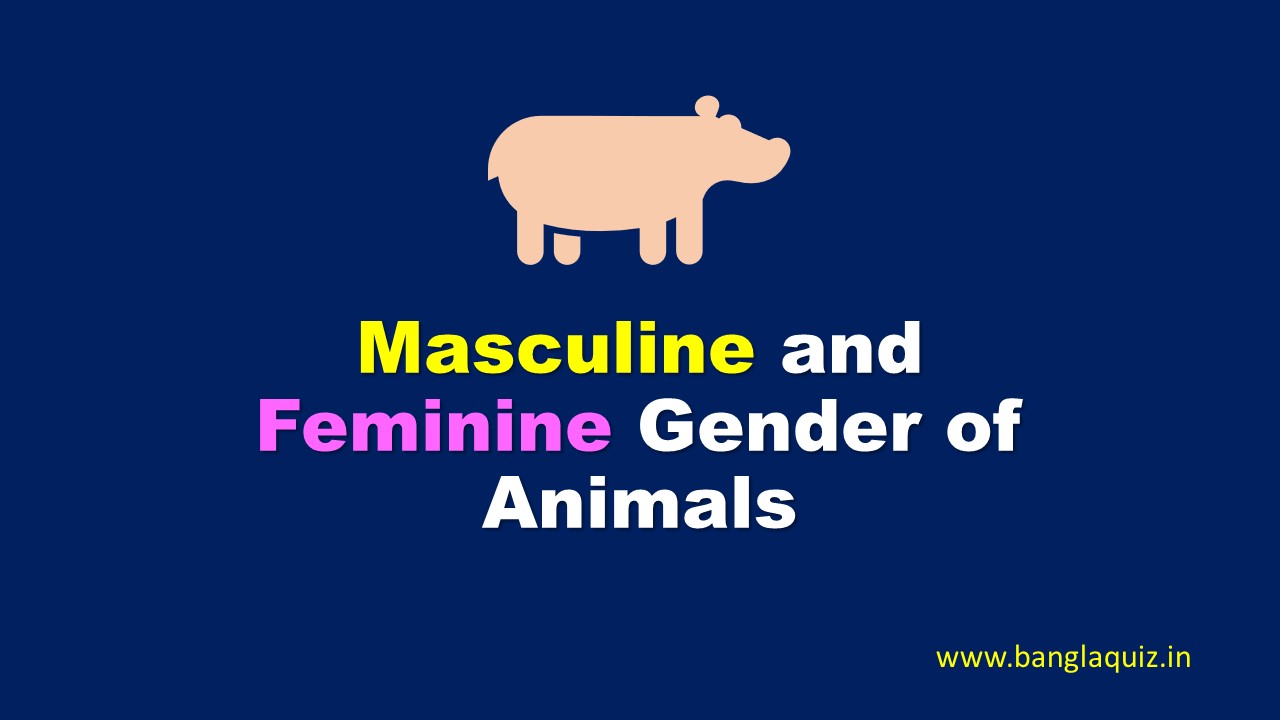 Masculine and Feminine Gender of Animals – Male and Female
It is very important to know the correct word for specific gender for commonly known animals. It is also good to know the name of their juveniles (young animals). In today's lesson we are going to know all about these. Masculine and Feminine Gender of Animals – Male and Female .
Some names are common in nature, as an example, male of hippopotamus and male of camel – both are called "bull". So, we can call male hippo 'a bull hippo' and male camel 'a bull camel'.
Collective nouns of some of these animals are also mentioned. As an example, a collection of giraffes is called 'A tower of giraffes'.
Common Name
Animal (masculine)
Animal (feminine)
Juvenile
Collection
Bee
Drone
Queen
Larva
Swarm
Camel
Bull
Cow
Calf
Herd
Cat
Tom-cat
Tabby-cat
Kitten
Clutter
Chicken
Rooster
Hen
Chick
Flock
Cow
Bull
Cow
Calf
Herd
Deer
Deer
Deer
Fawn
Herd
Deer
Stag
Doe
Fawn
Herd
Dog
Dog
Bitch
Puppy / Pup
Pack
Donkey
Jack
Jenny
Foal
Drove
Duck
Drake
Duck
Duckling
Raft (on water)
Paddling (swimming)
Waddling (walking)
Elephant
Bull
Cow
Calf
Herd
Fox
Fox / Reynard
Vixen
Cub
Skulk
Giraffe
Bull
Cow
Calf
Tower
Goat
He-goat
She-goat
Kid
Flock
Goose
Gander
Goose
Gosling
Wedge / Flock / Skein
Hedgehog
Boar
Soar
Piglet
Array
Hippopotamus
Bull
Cow
Calf
Bloat
Horse
Stallion
Mare
Colt (m)Filly (f)
String
Kangaroo
Buck
Doe
Joey
Troop
Leopard
Leopard
Leopardess
Cub
Lepe
Lion
Lion
Lioness
Cub
Pride
Monkey
Male-monkey
Female-monkey
Infant
Troop
Mule
Jack
Jenny
Foal
Herd
Otter
Dog
Bitch
Kitten
Family
Owl
Owl
Hen
Owlet
Parliament
Peacock
Peacock
Peahen
Chick
Ostentation
Pig
Boar
Sow
Piglet
Herd
Sheep
Ram
Ewe
Lamb
Flock
Squirrel
Buck
Doe
Kit / Bunny
Colony
Swan
Cob
Pen
Cygnet
Wedge / Flock
Tiger
Tiger
Tigress
Cub
Streak
Whale
Bull
Cow
Calf
School
Masculine ,Feminine, Juvenile & Collection of Different Animals
Also Check :
50+ Animals and their Movements List PDF Download
Vegetable Names in English with Pictures and Bengali Meaning