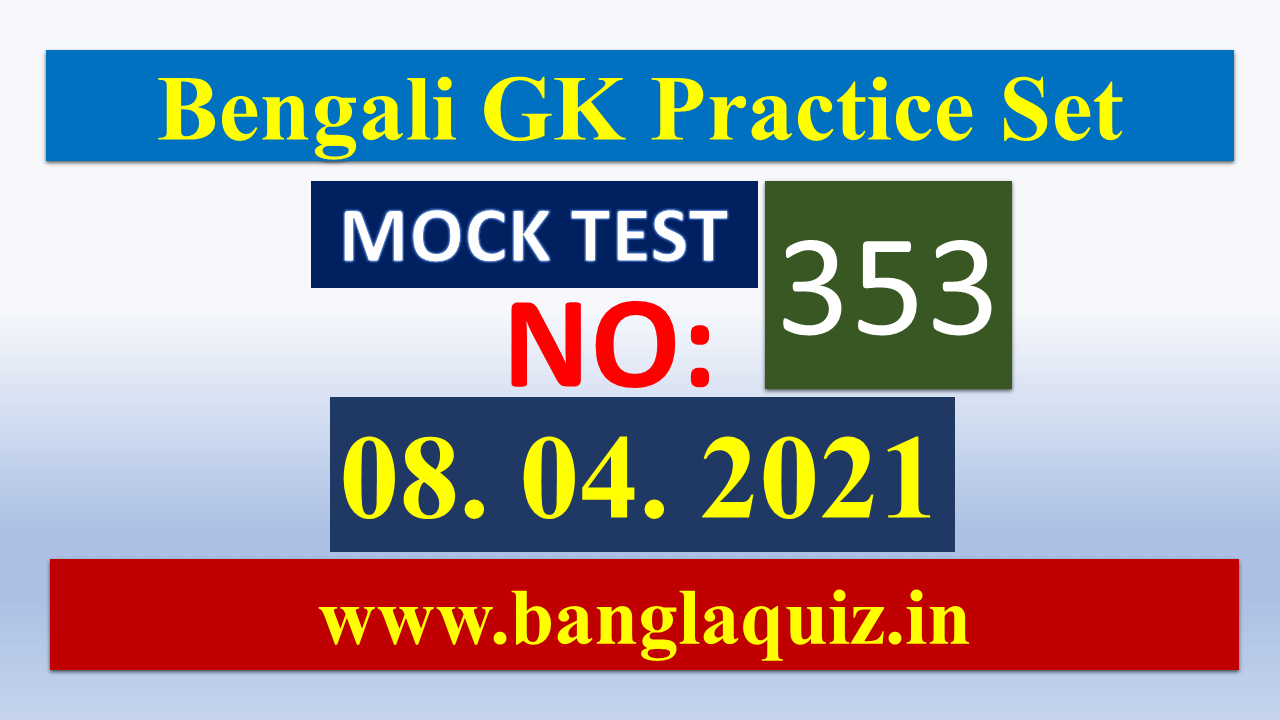 Daily General Awareness Mock – 08.04.2021
সাধারণ জ্ঞান কুইজ | সাধারণ জ্ঞানের 20টি প্রশ্ন নিয়ে  আজকের মক টেস্ট (Daily General Awareness Mock – 08.04.2021 ) । চেক করে নাও কে কতগুলো পারো । WBCS Online Daily Bangla GK Practice Set |
আজকের মক টেস্ট WBCS স্পেশাল । জেনারেল নলেজ মকটেস্ট পর্ব 353 |
[

সকল মকটেস্ট গুলি একসাথে দেখতে এখানে ক্লিক করুন

– Bangla Quiz Mock Tests  ]
Our Android App User Click here for the MOCK Test. 
সাধারণ জ্ঞানের 20 টি প্রশ্ন কুইজ আকারে নিচে দেওয়া রইলো। দেখে নাও কে কত স্কোর করতে পারো ।
The start button for Free Mock Test  will only work once all the questions are downloaded. So please wait for few seconds in case it's not working.

Result will be updated after few hours.

| User Name | Start | Duration | Score |
| --- | --- | --- | --- |
| D | 01:30:38 Mar 27, 2023 | 1 minutes 2 seconds | 50% |
| Da | 01:28:14 Mar 27, 2023 | 1 minutes 50 seconds | 25% |
| Feda | 18:36:39 Dec 29, 2022 | 3 minutes 13 seconds | 30% |
| E | 23:50:29 Dec 21, 2022 | 3 minutes 8 seconds | 55% |
| S | 02:09:05 Aug 21, 2022 | 1 minutes 40 seconds | 100% |
| S | 01:02:05 Aug 19, 2022 | 2 minutes 41 seconds | 100% |
| S | 00:57:15 Aug 19, 2022 | 4 minutes 12 seconds | 95% |
| AKD | 16:05:50 Aug 08, 2022 | 1 minutes 15 seconds | 100% |
| AKD | 15:55:55 Aug 08, 2022 | 5 minutes 2 seconds | 55% |
| AKD | 15:50:39 Aug 08, 2022 | 5 minutes 2 seconds | 20% |
| S | 17:12:07 Aug 05, 2022 | 3 minutes 40 seconds | 100% |
| S | 00:21:07 Jul 27, 2022 | 3 minutes 35 seconds | 100% |
| D | 16:23:07 Jul 22, 2022 | 2 minutes 17 seconds | 100% |
| D | 16:17:51 Jul 22, 2022 | 4 minutes 51 seconds | 95% |
| S | 10:10:13 Jul 20, 2022 | 1 minutes 35 seconds | 100% |
| S | 10:06:28 Jul 20, 2022 | 3 minutes 20 seconds | 95% |
| S | 09:41:57 Jul 20, 2022 | 5 minutes 3 seconds | 45% |
| Ri | 20:36:12 Jun 05, 2022 | 4 minutes 39 seconds | 45% |
| Probhat | 21:47:09 May 18, 2022 | 1 minutes 58 seconds | 90% |
| Probhat | 19:19:08 May 18, 2022 | 3 minutes 18 seconds | 50% |
| poulumi | 15:53:10 May 06, 2022 | 2 minutes 11 seconds | 35% |
| S | 09:57:45 Apr 25, 2022 | 5 minutes 2 seconds | 5% |
| Sub | 17:30:11 Apr 22, 2022 | 2 minutes 39 seconds | 90% |
| Sub | 08:46:34 Apr 22, 2022 | 2 minutes 29 seconds | 90% |
| Sub | 08:43:36 Apr 22, 2022 | 2 minutes 34 seconds | 30% |
| Sub | 19:52:30 Apr 21, 2022 | 3 minutes 59 seconds | 60% |
| RMKA | 12:39:24 Mar 13, 2022 | 2 minutes 22 seconds | 35% |
| h | 21:26:24 Feb 17, 2022 | 1 minutes 26 seconds | 100% |
| h | 21:23:31 Feb 17, 2022 | 1 minutes 34 seconds | 90% |
| 2 | 21:10:09 Feb 17, 2022 | 2 minutes 27 seconds | 70% |
| Raj | 18:46:21 Feb 14, 2022 | 1 minutes 32 seconds | 60% |
| MD akbar | 08:13:51 Jan 26, 2022 | 3 minutes 23 seconds | 40% |
| 2 | 18:14:55 Jan 17, 2022 | 1 minutes 34 seconds | 100% |
| 1 | 18:10:36 Jan 17, 2022 | 1 minutes 19 seconds | 95% |
| 1 | 22:09:05 Jan 16, 2022 | 1 minutes 9 seconds | 100% |
| 1 | 21:55:31 Jan 16, 2022 | 2 minutes 19 seconds | 100% |
| 1 | 21:52:35 Jan 16, 2022 | 2 minutes 41 seconds | 95% |
| 2 | 21:47:55 Jan 16, 2022 | 4 minutes 21 seconds | 60% |
| 1 | 23:03:52 Jan 10, 2022 | 1 minutes 19 seconds | 100% |
| h | 22:59:43 Jan 10, 2022 | 2 minutes 29 seconds | 75% |
| h | 13:09:32 Jan 04, 2022 | 17 seconds | 20% |
| 1 | 13:08:51 Jan 04, 2022 | 28 seconds | 5% |
| 1 | 13:06:35 Jan 04, 2022 | 1 minutes 55 seconds | 95% |
| 2 | 13:03:55 Jan 04, 2022 | 2 minutes 25 seconds | 50% |
| 1 | 19:18:20 Dec 27, 2021 | 1 minutes 1 seconds | 100% |
| h | 19:16:19 Dec 27, 2021 | 1 minutes 43 seconds | 95% |
| 2 | 19:08:54 Dec 27, 2021 | 2 minutes 27 seconds | 30% |
| H | 14:22:54 Dec 24, 2021 | 4 minutes 31 seconds | 45% |
| S | 14:23:46 Dec 21, 2021 | 2 minutes 22 seconds | 25% |
| H | 21:32:12 Dec 11, 2021 | 3 minutes 2 seconds | 50% |
| chandana manna | 18:47:19 Dec 08, 2021 | 2 minutes 12 seconds | 95% |
| chandana manna | 18:42:33 Dec 08, 2021 | 4 minutes 20 seconds | 45% |
| I | 00:05:29 Nov 30, 2021 | 4 minutes 12 seconds | 90% |
| R | 23:59:47 Nov 29, 2021 | 5 minutes 2 seconds | 60% |
| G | 23:09:40 Nov 20, 2021 | 2 minutes 43 seconds | 100% |
| J | 23:01:25 Nov 20, 2021 | 3 minutes 39 seconds | 85% |
| R | 22:55:51 Nov 20, 2021 | 5 minutes 2 seconds | 30% |
| Erl8l | 18:36:45 Nov 15, 2021 | 3 minutes 21 seconds | 45% |
| Royal | 13:36:08 Nov 02, 2021 | 3 minutes 27 seconds | 95% |
| Royal | 13:30:50 Nov 02, 2021 | 5 minutes 2 seconds | 55% |
| PARTHA MONDAL | 15:33:25 Sep 29, 2021 | 3 minutes 22 seconds | 40% |
| Souvik | 13:37:29 Sep 17, 2021 | 4 minutes 10 seconds | 50% |
| Rabi Biswas | 16:12:46 Sep 14, 2021 | 3 minutes 31 seconds | 35% |
| Gg | 22:55:53 Sep 10, 2021 | 5 minutes 2 seconds | 30% |
| Fy | 00:32:21 Aug 28, 2021 | 4 minutes 52 seconds | 55% |
| u | 20:56:38 Aug 18, 2021 | 3 minutes 41 seconds | 40% |
| madhumita | 07:36:01 Aug 15, 2021 | 1 minutes 22 seconds | 10% |
| H | 11:09:44 Aug 15, 2021 | 3 minutes 57 seconds | 45% |
| Joy Barman | 20:18:14 Aug 14, 2021 | 4 minutes 49 seconds | 45% |
| I | 22:48:37 Aug 10, 2021 | 2 minutes 20 seconds | 75% |
| Pranab | 20:38:19 Aug 10, 2021 | 2 minutes 51 seconds | 30% |
| I | 07:09:44 Aug 10, 2021 | 1 minutes 36 seconds | 95% |
| Nemo. | 21:00:27 Aug 09, 2021 | 3 minutes 41 seconds | 40% |
| Fhh | 10:49:47 Jul 23, 2021 | 50 seconds | 95% |
| Gu | 10:47:37 Jul 23, 2021 | 1 minutes 50 seconds | 55% |
| Prabhu | 09:26:33 Jul 16, 2021 | 1 minutes 37 seconds | 75% |
| Sss | 16:06:16 Jul 15, 2021 | 2 minutes 3 seconds | 50% |
| Prabhu | 16:03:12 Jul 15, 2021 | 1 minutes 48 seconds | 60% |
| Mou rajak | 21:57:47 Jul 13, 2021 | 1 minutes 22 seconds | 100% |
| Mou rajak | 21:55:58 Jul 13, 2021 | 1 minutes 23 seconds | 90% |
| Mou rajak | 21:53:31 Jul 13, 2021 | 2 minutes 8 seconds | 40% |
| Prabhu | 16:50:06 Jul 10, 2021 | 3 minutes 58 seconds | 50% |
| KIRA | 21:53:17 Jul 09, 2021 | 4 minutes 2 seconds | 75% |
| Gh | 18:52:38 Jul 09, 2021 | 3 minutes 36 seconds | 55% |
| Kgb | 20:55:06 Jul 07, 2021 | 1 minutes 54 seconds | 85% |
| Kgb | 20:50:54 Jul 07, 2021 | 3 minutes 44 seconds | 35% |
| R | 21:44:04 Jul 06, 2021 | 2 minutes 29 seconds | 75% |
| Asd | 14:31:35 Jul 05, 2021 | 2 minutes 15 seconds | 60% |
| January | 17:44:31 Jun 25, 2021 | 2 minutes 58 seconds | 45% |
| S | 23:24:45 Jun 24, 2021 | 1 minutes 40 seconds | 55% |
| Soumi Chatterjee | 13:51:45 Jun 24, 2021 | 2 minutes 3 seconds | 85% |
| Samim | 12:23:32 Jun 24, 2021 | 2 minutes 48 seconds | 30% |
| 123 | 08:17:32 Jun 24, 2021 | 1 minutes 17 seconds | 80% |
| D | 06:39:02 Jun 24, 2021 | 1 minutes 10 seconds | 90% |
| Mouli | 06:36:00 Jun 24, 2021 | 2 minutes 29 seconds | 35% |
| SAIDUR RAHAMAN | 00:04:04 Jun 24, 2021 | 3 minutes 26 seconds | 40% |
| 123 | 23:29:04 Jun 23, 2021 | 2 minutes 14 seconds | 60% |
| Jj | 22:38:36 Jun 23, 2021 | 2 minutes 39 seconds | 25% |
| Gourab Saha | 20:05:19 Jun 23, 2021 | 3 minutes 10 seconds | 65% |
| Atanu | 17:38:26 Jun 23, 2021 | 3 minutes 58 seconds | 55% |
| Atanu | 17:14:10 Jun 23, 2021 | 23 minutes 52 seconds | 0% |
| ARIJIT DAS | 16:54:09 Jun 23, 2021 | 2 minutes 38 seconds | 40% |
| MN | 16:06:24 Jun 23, 2021 | 2 minutes 26 seconds | 65% |
| Soumi Chatterjee | 15:58:29 Jun 23, 2021 | 1 minutes 15 seconds | 100% |
| Soumi Chatterjee | 15:55:25 Jun 23, 2021 | 2 minutes 37 seconds | 45% |
| G | 15:12:51 Jun 23, 2021 | 1 minutes 45 seconds | 95% |
| Raja | 14:28:27 Jun 23, 2021 | 3 minutes 3 seconds | 40% |
| Debabrata Das | 07:02:19 Jun 23, 2021 | 3 minutes 21 seconds | 45% |
| K | 00:12:24 Jun 23, 2021 | 49 seconds | 0% |
| Debanjali | 23:37:09 Jun 22, 2021 | 3 minutes 13 seconds | 40% |
| Sukanya | 22:56:59 Jun 22, 2021 | 4 minutes 20 seconds | 45% |
| K | 22:14:02 Jun 22, 2021 | 1 minutes 1 seconds | 95% |
| KUSHOL KHAN | 22:10:00 Jun 22, 2021 | 3 minutes 14 seconds | 55% |
| Jg | 21:10:35 Jun 22, 2021 | 3 minutes 6 seconds | 50% |
| Aa | 17:13:09 Jun 22, 2021 | 5 minutes 2 seconds | 55% |
| Rrr | 16:30:30 Jun 22, 2021 | 2 minutes 9 seconds | 75% |
| Shima roy | 16:14:51 Jun 22, 2021 | 3 minutes 23 seconds | 50% |
| Tanushree Shit | 16:13:48 Jun 22, 2021 | 3 minutes 29 seconds | 50% |
| AaAarr | 15:59:38 Jun 22, 2021 | 2 minutes 17 seconds | 55% |
| Sekhar Ghosh | 15:30:50 Jun 22, 2021 | 4 minutes 5 seconds | 45% |
| Kajal Mondal | 15:27:29 Jun 22, 2021 | 3 minutes 19 seconds | 35% |
| Sb | 15:19:38 Jun 22, 2021 | 3 minutes 24 seconds | 50% |
| Rimi | 15:01:07 Jun 22, 2021 | 7 minutes 15 seconds | 5% |
| Rakesh | 15:02:42 Jun 22, 2021 | 1 minutes 46 seconds | 100% |
| R | 14:47:27 Jun 22, 2021 | 3 minutes 48 seconds | 60% |
| Tuku | 14:42:55 Jun 22, 2021 | 5 minutes 2 seconds | 45% |
| P | 14:43:16 Jun 22, 2021 | 1 minutes 31 seconds | 95% |
| P | 14:37:58 Jun 22, 2021 | 4 minutes 26 seconds | 55% |
| Das | 14:32:33 Jun 22, 2021 | 1 minutes 40 seconds | 95% |
| Jiban das | 14:30:59 Jun 22, 2021 | 1 minutes 15 seconds | 85% |
| Life das | 14:27:55 Jun 22, 2021 | 2 minutes 30 seconds | 35% |
| Tapas | 14:22:09 Jun 22, 2021 | 2 minutes 42 seconds | 65% |
| Subham | 14:10:01 Jun 22, 2021 | 2 minutes 21 seconds | 50% |
| SUBHASIS SADHUKHAN | 14:07:06 Jun 22, 2021 | 43 seconds | 90% |
| SUBHASIS SADHUKHAN | 14:05:16 Jun 22, 2021 | 1 minutes 27 seconds | 40% |
| S | 14:00:43 Jun 22, 2021 | 3 minutes 1 seconds | 50% |
| Kii | 14:01:12 Jun 22, 2021 | 34 seconds | 100% |
| Biooo | 13:59:53 Jun 22, 2021 | 58 seconds | 90% |
| Biii | 13:57:02 Jun 22, 2021 | 2 minutes 29 seconds | 45% |
| Jiten Kumar | 13:52:39 Jun 22, 2021 | 3 minutes 10 seconds | 30% |
| Cr7 | 13:53:16 Jun 22, 2021 | 1 minutes 51 seconds | 30% |
| Jk | 13:50:01 Jun 22, 2021 | 4 minutes 27 seconds | 30% |
| Suman | 13:48:22 Jun 22, 2021 | 3 minutes 40 seconds | 70% |
| Ss | 13:46:46 Jun 22, 2021 | 1 minutes 2 seconds | 100% |
| Ss | 13:42:46 Jun 22, 2021 | 3 minutes 41 seconds | 45% |
| A | 13:40:43 Jun 22, 2021 | 2 minutes 47 seconds | 35% |
| Ak | 13:39:21 Jun 22, 2021 | 1 minutes 53 seconds | 5% |
| B | 13:37:30 Jun 22, 2021 | 3 minutes 41 seconds | 55% |
| Joy | 12:28:56 Jun 20, 2021 | 1 minutes 29 seconds | 100% |
| Bmna | 07:24:29 Jun 20, 2021 | 58 seconds | 100% |
| Bmnn | 07:20:21 Jun 20, 2021 | 1 minutes 26 seconds | 95% |
| Bnm | 09:21:11 Jun 19, 2021 | 1 minutes 50 seconds | 85% |
| Joy | 11:48:12 Jun 18, 2021 | 1 minutes 15 seconds | 100% |
| Joy | 11:34:54 Jun 18, 2021 | 2 minutes 44 seconds | 60% |
| Songra | 08:18:11 Jun 15, 2021 | 3 minutes 49 seconds | 45% |
| Giri | 16:23:37 Jun 12, 2021 | 59 seconds | 85% |
| Laltu | 16:19:59 Jun 12, 2021 | 3 minutes 10 seconds | 40% |
| Bi | 13:24:19 Jun 02, 2021 | 1 minutes 30 seconds | 50% |
আরো দেখো
Daily Online GK Practice Set in Bangla- Mock 315
Daily Online GK Practice Set in Bengali – Mock 314
Daily General Knowledge Online Practice Set in Bengali –  Mock 313
General Awareness Practice Set Competitive Exams – Mock 312
General Knowledge Quiz in Bengali –  306