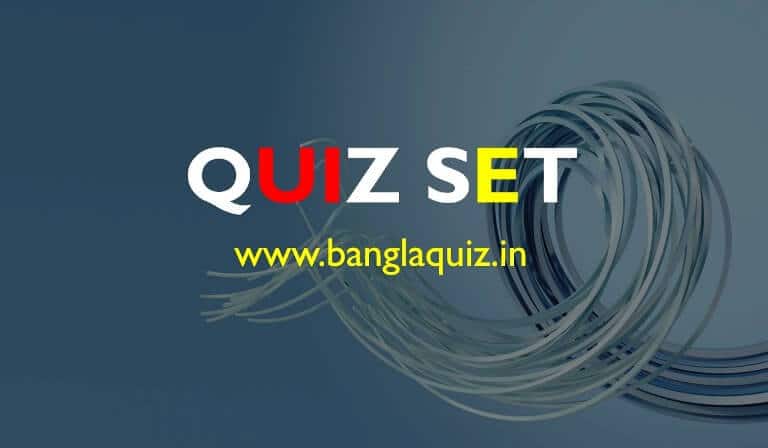 Bengali Quiz – Set 50
১. মাত্র ১৫ বছর বয়সে অসহযোগ আন্দোলে যোগ দিয়ে কে বন্দি হবার পর কোর্টে জিজ্ঞাসাবাদের সময় বলেন তাঁর নাম "আজাদ", বাবার নাম "স্বতন্ত্র" এবং তাঁর ঘর "জেল"?

উত্তর :
চন্দ্রশেখর তিওয়ারি ( এই ঘটনাটির পর থেকে সবাই উনাকে চন্দ্রশেখর আজাদ বলে ডাকতে থাকেন)
---
২. 'Metal of Hope' কোন মৌলিক পদার্থকে বলা হয়?

---
৩. স্বাধীন ভারতের প্রথম প্রতিরক্ষা মন্ত্রী কে ছিলেন?

---
৪. ভারতের একমাত্র কোন শহরটি দুটি রাজ্যের রাজধানী?

---
৫. বিকাশ স্বরূপের কোন উপন্যাসকে অবলম্বন করে "Slumdog Millionaire" চলচিত্রটি হয়েছিল?

---
৬. আন্তর্জাতিক ক্রিকেট খেলায় ব্যবহৃত ক্রিকেট বলের ভর কত?

---
৭. পৃথিবীর একমাত্র কার্বন নেগেটিভ দেশ কোনটি?

---
৮. 'What do the forest bear ? Soil water and pure air.' – কোন বিখ্যাত আন্দোলনের স্লোগান?

---
৯. ভারতের কফি গবেষণাগার কোথায় আছে ?

উত্তর :
কর্ণাটকের চিকমাগালুর শহরে
---
১০. ভারতে প্রথম ATM চালু করেছিল কোন ব্যাঙ্ক?

---
Follow Us